Check and Cleans in Burwood
The typical checkup is about 45 minutes for new patients and 30 minutes for returning patients. Our dentist or oral health therapist will gently scale, polish, floss and apply fluoride. If X-rays are necessary, we will also take them at no charge.
We recommend a check and clean every six months to keep your smile as healthy as possible.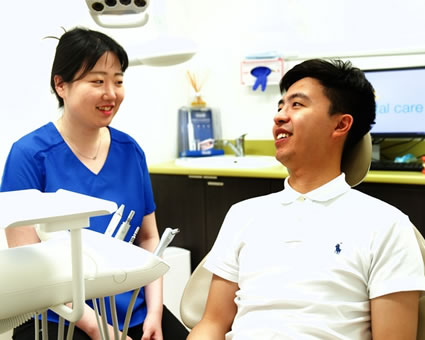 NEW CLIENTS »

Patient Education
The key to prevention-based dentistry is the right oral health education. If we find you show signs of gingivitis or other concerns, our dentist or oral health therapist will show you how to care for those areas before irreversible damage occurs.
Our goal is to intercept irreversible gum and bone damage before tooth loss takes place. If you show signs of bleeding, swollen gums or gum recession, it could be gum disease.
Affordable Preventative Care
Our practice accepts health funds with a maximum gap of $69 (depending on your plan, a no gap visit may be likely). Many of our patients have coverage through HCF, NIB, BUPA, Medibank, PHI and Smile Dentist. If you are paying out of pocket with no coverage, a flat $169 fee is applied. Your new patient appointment includes
Comprehensive oral exam with oral cancer screening and periodontal evaluation
Scale and clean
Complimentary X-ray(s)
Your new patient and recare X-rays are always complimentary, so there is no extra charge when you need diagnostic imaging.
Have Questions?
If your smile shows signs of teeth grinding (bruxism), be sure to ask about our custom occlusal splints and night guards. Hoping to erase signs of tooth discolouration? We also offer professional whitening.
Reserve Your Visit Now
Heavy tartar buildup and bad breath are common signs of gum disease. Preventative scale and cleans can keep your smile healthy for years to come. Contact Me Dental Care Burwood today to reserve a checkup.
CONTACT US »
---
Check and Cleans Burwood VIC | (03) 7032 3968