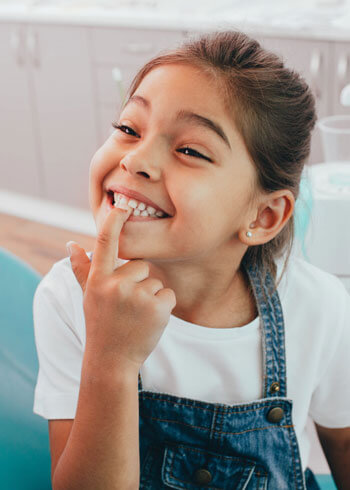 Children's Dentistry in Burwood
Early dental care gives children a head start on healthy teeth for life. While minimising the chances of preventable dental emergencies, children's checkups also play another crucial role: preventing dental anxiety. By developing familiar relationships in a gentle, prevention-based environment, children can grow up associating dental care with something non-threatening and common.
Your Child's First Checkup
It's best to bring your child in for a checkup sometime between 6-8 months of age, and no later than age 2. The sooner they see one of our dentists, the more familiar they will be with our team.
Typically, your child's first checkup is a brief 5-minute consult. We will chat with the parent about oral health habits and how to look after their child's teeth. We will also use a mirror and light to look inside the child's mouth. As they get older, we will progress into more routine cleans and age-appropriate education.
NEW CLIENTS »

No Fee for Children Under 3
We offer complimentary checkups to all children under age 3, even if your family has a private health fund. By ensuring that all children have access to a checkup at an early age, we can help prevent common dental diseases at a vital stage in their oral development.
Orthodontic Evaluations
Your child's smile is developing at a rapid pace. By evaluating their tooth and jaw alignment during each checkup, we can intercept orthodontic concerns as they may arise. Our practice offers in-house orthodontics (traditional braces) as necessary.
Fissure Sealants and Fluoride
Many childhood dental diseases can be minimised with fissure sealants and fluoride. Applied appropriately, these preventative procedures reduce cavity risk in children and can be completed during their checkup appointment.
Reserve an Appointment Today
Is your child due for their first or six monthly checkup? Contact Me Dental Care Burwood now to reserve an appointment.
CONTACT US »
---
Children's Dentistry Burwood VIC | (03) 7032 3968