New Clients at Me Dental Care Burwood
Visiting a new dentist for the first time is simple when you know what to expect! Our family practice is committed to providing personalized care that's tailored to your unique needs.
As we're located within a medical centre, you'll find that our check-in area shares a reception desk with the neighbouring health clinic. All guests will check-in at the same desk.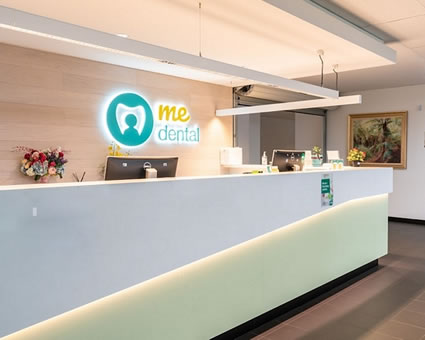 When You Arrive
Upon check-in, you'll find an online reception area. When you call the number listed, one of our team members will come out to meet you, perform a brief health screening and provide you with an iPad to complete your personal information.
Next, we'll escort you to one of our clinical rooms to perform a checkup and clean with one of our dentists. We'll also take X-rays when needed. Depending on your circumstances, our dentist will discuss any oral hygiene concerns or treatment needs. We offer a comprehensive checkup—including scale and clean and X-rays—for just $169.
What if You Need Treatment?
If you have areas of tooth decay, worn enamel or gum disease, our dentist will discuss your treatment plan with you one-on-one. There are no surprises as we pride ourselves on being open and communicative with our clients. After we've reviewed your care needs, you can book the next appointment at a time that's convenient.
Flexible payment options are available and insurance is accepted.
Mobile Service for Seniors Available
For our older clients who may not be able to travel to the dentist's office, we can bring our dental clinic to them. Please contact us to discuss mobile dentistry options for the senior in your family.
Your Multilingual Family of Dentists
Our practice is multilingual, allowing us to better serve the diverse community and our neighbours.
Gap Free Appointments
Contact us today to reserve a checkup for you or a family member.
CONTACT US »
---
New Clients at Me Dental Care Burwood | (03) 7032 3968