Orthodontics in Burwood
Our practice offers traditional braces for children and some adults case-by-case. Traditional orthodontics can efficiently correct everything from minor bite needs to more complex crowding and spacing concerns.
What to Expect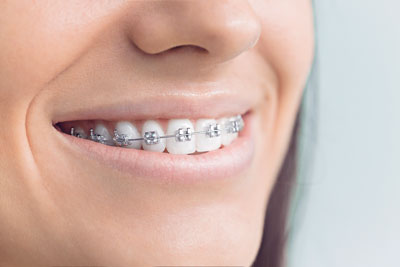 During your initial consultation, the dentist will evaluate your bite and discuss your concerns. Then we will send you an OPG, so that we can better evaluate your jaw and oral anatomy.
When you return after your imaging appointment, our dentist will discuss the findings, recommendations and pricing related to your unique situation. In more advanced circumstances, we may recommend a referral to a specialist. Otherwise, we will take a series of pictures of your teeth and plan for you to return for one final visit, where all brackets and wires are applied.
NEW CLIENTS »

How Long Is the Treatment?
Most orthodontic treatments require anywhere between 6-18 months, depending on the individual's needs. Each person is assessed case-by-case, as the anatomy needs vary.
Oral Hygiene and Home Care
Your oral hygiene is particularly important during orthodontic treatment. With fixed brackets and wires, you will need to take time to clean around each of your appliances properly. Our team will show you how to brush, floss, and which foods to avoid (as sticky or hard textures could damage your braces).
By straightening your teeth, you can reduce your risk of
Dental emergencies
Irregular tooth wear
Payment Information
Before you get braces, we will review all pricing and financial information related to your smile's needs. Most of our patients prefer to pay for their braces in quarterly instalments.
Are Braces Right for Me?
A straighter smile is one of the best accessories you'll ever wear. Contact Me Dental Care Burwood today to learn more about our complete orthodontic services.
CONTACT US »
---
Orthodontics Burwood VIC | (03) 7032 3968